I love me my coffee drinks. They are great for company, and super stupid easy. They taste good, they make you feel warm and fuzzy on cold days (how can you go wrong with coffee and alcohol?), and basically they're an all around good thing for people who want to be social without excessive boozing.
So allow you to introduce you to my favourite: Irish coffee. But not just any Irish coffee. Vegan Mocha Irish Coffee… with CHOCOLATE IN IT. AND WHIPPED CREAM.
HECK YES.
When it comes to whipped cream, I can attest directly that if you haven't lived like this, you simply haven't lived: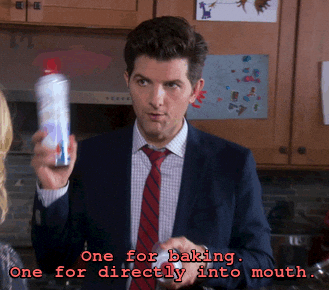 Because: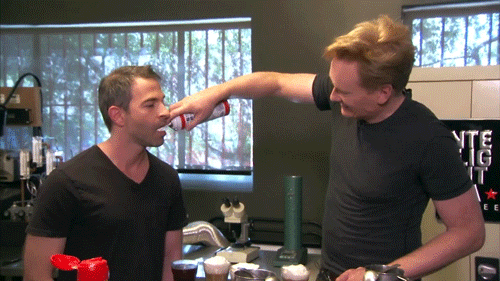 I mean, really do we have to say anything else about it? Whipped cream in a can is the perfect delivery-to-mouth system. Unless… you can't have whipped cream.
I have a torrid food blogger love affair going on with Nicole MacPherson, one of the loveliest people I've ever had the privilege to meet. My friend Nicole is a vegan, (something I won't hold against her even if I do sometimes wonder secretly how she survives life without bacon and cheese) and we've bonded over geek food science and my son's dairy allergy. She jokes that she's the Pinky to my Brain; we spent a whole morning once chortling over experiments with aquafaba and apple pectin. Nicole sells herself short though sometimes calling herself Pinky. She's no slouch in the kitchen with her own mad science experiments, as her wildly successful Dairy-Free Baileys knockoff can attest – it's a great homemade gift for people who are vegan or with dairy allergies.
So once again, between Nicole and I (okay, and a little help from Gay Lea's Real Coconut Whipped Cream), we've tag teamed the perfect drink for people who want to join in the coffee drink party. Okay, she didn't know she gave me a boost on this one… it just sort of happened. And she's probably going to demand I ship her some coconut whipped cream as tribute.
All the products are direct substitutions for the normal dairy-containing products, which makes it super simple for you as a hostess to switch from one to the other. Or, heck, just stick to the vegan one if you like. While I won't say it's indistinguishable from the dairy one, I think coconut is FRICKIN' DELICIOUS in it's own right (I mean, surely if you paid attention to my Coconut Breakfast Buns you know how I feel about coconut by now. And even as a dairy-consuming hardcore non-vegan, I don't have any problems switching up to coconut whipped cream instead.
If you are not like me, and you do have restrictions in your diet that prevent you from consuming regular whipped cream, then rest assured that the Gay Lea Real Coconut Whipped Cream is made with real ingredients, is non-dairy for people with lactose intolerance and food allergies, vegan, gluten-free, and is just as convenient and easy to do this with: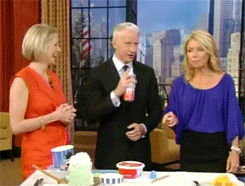 I mean, assuming you're not actually putting it on real food.
Oh right, you probably want to put it in your coffee drink.
Vegan Irish Mocha Coffee
2016-03-29 08:44:16
Serves 1
A quick and delicious coffee drink that's sweet, chocolatey, and perfect for company.
Per cup
Freshly brewed coffee
Non-dairy chocolate syrup
1 shot vegan Irish Cream (see recipe link above)
Sugar
Gay Lea's Real Coconut Whipped Cream (or similar)
Instructions
In a mug, combine the shot of baileys, 1-2 teaspoon sugar, and a generous squirt of chocolate syrup.
Fill the mug with fresh coffee.
Top with coconut whipped cream and more chocolate syrup.
Notes
This recipe can be made with traditional Irish cream and whipped cream topping. Simply substitute 1:1!
FoodRetro https://foodretro.com/
Disclosure: I am part of the Gay Lea Ambassador Campaign and I receive special perks as part of my affiliation with this group. The opinions on this blog are my own.