I'm a huge fan of French Immersion. In just one school year, my son picked up a tremendous amount of spoken and written French, and my husband and I don't speak any French at home. Little kids take to new languages like fish to water, which is why it makes perfect sense to give them a second language if there's an opportunity to. But most new French Immersion parents who don't speak French worry. What if their kid struggles? How will they keep up their French language skills over the breaks and summer? The answer is: use a favourite past-time to increase exposure. Watching some movies and shows in the language can help your grade school French Immersion child.
Books are a great tool for teaching new words, but they don't help your kid practice following along in conversations–where they're most likely to get lost. To keep his skills up over the summer, our school suggested public broadcast French TV. Letting him watch les Schtroumpfs (the Smurfs) sounded like a good idea in theory, but they spoke too quickly, used many words he didn't know, and captioning was really limited. We needed more preschool-level material, and the only thing we could find that was suitable for his level on broadcast was Caillou.
After some poking around, I spoke with my friends at Netflix. While not everything is available in French dubbing or subtitling, they gave me a great list of 12 shows on Netflix that have French dubbing or subtitling, or both. Now that we have more than just Caillou, we've been watching many of these shows to get ready for back to school!
I've had my son give an approximate "difficulty grade" for some of these shows, but your child's experiences in school and their ability to follow along in conversations may vary, so take it with a grain of salt. We have been watching a lot of French-dubbed shows with English subtitles on, so even if he's not following along well in French, he's practicing his reading in English to keep that up.
I like to think of this as a win-win.
How to turn on the subtitles/dubbing on Netflix:
Select the speech bubble option on the bar, and choose your audio and subtitle preferences.
Here's 12 shows suitable for the early grade school French Immersion available on Netflix Canada:
---
Great for beginners through year 1!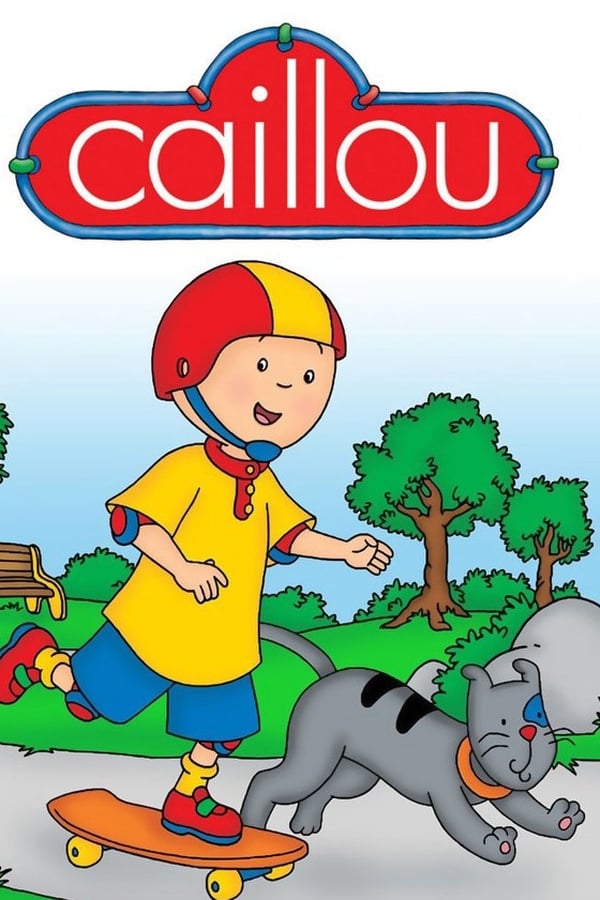 Caillou
This well-known preschool-aged kid's show is available commercial-free on Netflix, unlike the public broadcast stations. While there's only English subtitles, the French dub is great, clear, and (mostly) preschool-slow, making it a perfect choice for kids in their first year of French Immersion.
Masha and the Bear
This cute animated television series is based loosely on a Russian folk tale, "Masha and the Bear." Compared to most shows, the dialogue is minimal, repetitive, and secondary to the action, making it great for kids who are still relying heavily on visual cues to help them figure out what's going on. Not only is this show available in French dub and subtitles, there's many other language options, too!
Animal Mechanicals
This show was one that my son's school often showed the kids during their first school year in French Immersion, and it's available on Netflix. My son gives it a thumbs up seal of approval for being interesting as well as helpful. French dub is available, but the subtitles are English only.
---
Great for years 1 – 2
The Adventures of Chuck and Friends
Chuck the dump truck and his friends have adventures and learn great life lessons. The downside to this show is that my year one kid had already been convinced by his peers that Chuck was too similar to the movie Cars, and he thought Cars was uncool. If you promise that you won't tell his buddies that he's not watching superheroes, it's a solid watch for keeping up vocabulary over the summer after the first year. French dub, English subtitles only.
Dinotrux
Dinotrux, Netflix's most recent original series from Dreamworks Animation, are cute preschool versions of Transformers. As dinosaurs! It's available in English and French dub and English and French subtitles. The complexity of vocabulary is great for a child near or at the end of year one in French immersion. There's some words that they won't know, but generally, they'll be able to get the gist. The length of the sentences and speed of the dialogue is mostly slow enough that they can follow along. My son enjoys it, and in bonuses aside from being a good show, dinotrux are cooler than Chuck the truck.
The Cat in the Hat Knows A Lot About That!
This former Treehouse-production based on everybody's favourite Dr. Seuss animal has 40 episodes available on Netflix. The conversations get kind of complicated at times with three characters overlapping one another, but a year one French Immersion kid should be able to follow along much of it by the end of the year. French dub, English subtitles only.
---
Great for years 2 – 3
Turbo Fast
Netflix's very first original series made for kids is an extension of the Turbo movie. Tito builds the snails their own city and race track. With two seasons of episodes available, and more released periodically as they finish production, it's a good choice for older kids. Both French dub and subtitles are available.
How to Train Your Dragon
While the second movie is only available in English on Netflix Canada, the first movie has French dub & subtitles. Most of the other How to Train Your Dragon movies and shows also have French dub and subtitles, including the Netflix Original series Race to the Edge.
Ever After High
This brightly coloured show's premise is a High School for the next generation of fairytales… one of whom doesn't want to follow in her evil mother's footsteps like everyone expects her to. Like all of Netflix's Original series that I've found so far, it has both French dub & subtitles available.
The Adventures of Puss in Boots
This Netflix Originals show, based on the Puss from the Shrek franchise, is being released in 5 episode blocks through 2015. The second set of 5 episodes was released in May, and more should be coming out soon. Both French dub & subtitles available.
All Hail King Julien
Everyone's favourite lemur has his own animated Netflix Original Series show. It's a great continuation of the Madagascar series, and it's available in both French dub and French subtitling.

Zoboomafoo
While this puppet and animal show has content that looks more appropriate for a younger crowd, my son had some difficulty with the vocabulary and the clarity of the dialogue, which may mean it's a better choice for a more experienced French Immersion student, especially since there are no subtitles available in English to help them puzzle out the meaning.
---
Your kids are sure to find something to their liking in this list! Encourage them to watch their shows in French throughout the year, and then you can spend more of your time working with them in English.
Good luck!