I think part of the problem with Christmas is that we make it so about the kids we forget to cater a little bit to ourselves.
I'm probably going to get myself tomato-ed for this, but we did the whole Kid Christmas movies incessantly last year, and one can watch the Peanuts Christmas special only so many times before you're like GIVE IT UP, CHARLIE BROWN! Christmas special movies tend to be pandering and insipid. There, I said it. Yeah there's a few good movies, but the rest are more about selling out for the holidays than being good stand-alone content. Nobody really wants to watch "How the (*Insert Popular Kids TV show of the year) Saved Santa."
Nobody.
The Christmas rom-coms are done to death–in fact they're more like dromadies–not drAmadies, no… these are drama, romance, comedy. You end the film feeling confused and depressed and slightly dirty. It's like slapping an "action adventure" label on a film and you'd better go in with zero expectations because if the makers of the product didn't know how to identify it, this box of chocolates you have no idea what you're going to get.
Blergh.
Which brings me to a handful of Christmas comedies that I actually harbour a secret fondness for. They're also kind of weird, in that they've got a deliberately low parental rating to be "kid friendly." But they're not. Not really. It's like taking a 13 year old to Interstellar. They can go. They meet the parental rating criteria. They're not going to be offended or traumatized… buuuut that doesn't mean that they're going to have a clue what's going on.
How the Grinch Stole Christmas (2000)
I actually saw the Jim Carrey version of How the Grinch Stole Christmas back when it came out in the theatre. I was 20 (movie came out in 2000, argh). I remember that a whole pile of us then-childless adults went to see it, and we hogged a whole row, finding ourselves one island alone in a theatre otherwise filled with parents and kids under six.
I also remember that we laughed hysterically the whole movie, while everyone else was giving it crickets. Why? Because despite the PG rating, the humor was primarily geared to 13+. It failed the fine balance that so many animated movies strive to create (a movie interesting to kids but with enough inside jokes to keep parents from falling asleep). So except for the occasional pratfall, fart or belch, the kids were dead silent, and apparently their parents either lost their senses of humor or stifled the guffaws so they wouldn't have to explain every joke to a three year old.
This isn't to say that a kid can't enjoy the film at all, but the kid should at least have a sense of humor well-developed enough to understand why a knock-knock joke is funny. If they've got no wordplay under their belt, they're not going to get anything at all.
So when I saw it on Netflix, I was perfectly happy to watch the Grinch again for the first time in 14 years with my six year old, who still laughed at the fart humor but was also old enough to understand the echo joke and "Oh, no. I'M SPEAKING IN RHYME!" He didn't get the Ron Howard inside joke or why I snickered when the soundtrack begin to play the melodic strains of Vangelis' Chariots of Fire, but I'll give that a pass because that's an old fart joke.
I'm an old fart. *sigh*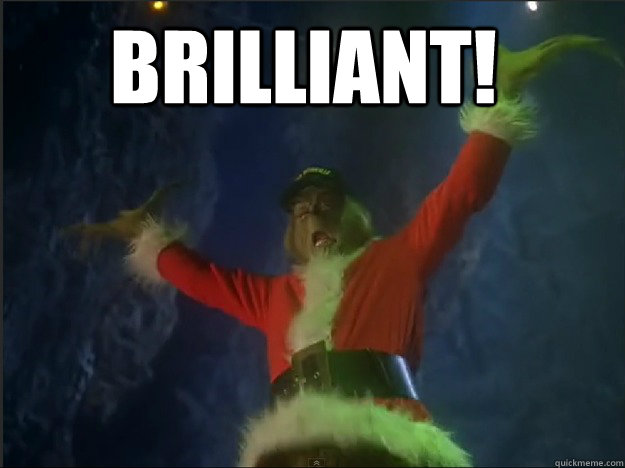 Elf (2003)
Anyway, I have a soft-spot for darker comedies, mostly because anything that's wildly original (or at least a creative take) automatically gets bumped up in my estimation (when you've gone to film school and have literally watched them all, you begin to get crabby about rehashing).
That's probably why even though I think Will Ferrell is a bit of an over-actor, I like Elf. Like How the Grinch Stole Christmas, Elf also leans on the side of kinda-but-not-really-for-kids. Which kind of pegs it perfectly for the ages between 5 and 16.
There's just enough stuff like this to keep the younger kids laughing…
And just enough of this to tickle my dark side.
I haven't seen it in a while, so it's on queue for this weekend.
National Lampoon's Christmas Vacation (1989)
This one's probably the most adult one, and its PG-13 rating and the language kind of reflect that, even if the sort of references weren't the sort of things that only someone who has had to deal with Christmas as an adult would get.
This movie is just for me.
I could watch this movie every year just for this. 'Nuff said.
Also in queue for the weekend.
Disclaimer: I am part of the Netflix Stream Team. That means they compensate me by letting me watch movies in exchange for talking about what I watch occasionally. It's pretty cool. Also, in case one couldn't tell, all the images are from the movies I am talking about, which means they belong to the studios that own the movies from which they are scooped for the purposes of talking about the movies.