It could be that movies are getting worse. It could be just that I've got early-onset old-cootism (more likely).
Whatever it is, I'm reveling in the Old Ways. You regular readers of my blog are probably like, "Doy…" (I am totally resurrecting this word).
At the moment, the Old Ways also involve ancient entertainment, circa 1980s, from the glory years when cartoons had public service announcements and morality lessons, and you the heroes of any movie could survive any explosion by running and jumping in the opposite direction.
Netflix is my Boss B.F.F. in this. I'm educating my kid all the good stuff (aka, what I used to watch as a kid) which Netflix Canada happily has bukkits of. Since Conan the Barbarian is off the list for a few years yet, one of those things was the Ghostbusters. Hey, I was about 5 when it came out, my kid's about 5, Ghostbusters just celebrated the big 3-0… it seemed kismet. I definitely haven't seen it since I moved to Canada.
Canadians have fierce pride in their actors. And why not? Some of the greatest names in comedy hail from the Great White North, including Jim Carrey, Mike Meyers, Dan Akroyd (who owns wineries somewhere nearby) and Rick Moranis. When I was trolling through trivia, something I always find interesting to do, I discovered John Candy (also Canadian) was originally going to be Louis instead of Moranis, but they split over creative differences which included a German accent and a Schnauzer, I believe.
Here ye be spoilers. But if these are spoilers, then you've clearly been hiding under a rock your whole life. If you're one of those people who've never seen the movie and just want to skip to the marshmallow part, scroll by. But I will come to your house and chuck marshmallows at you.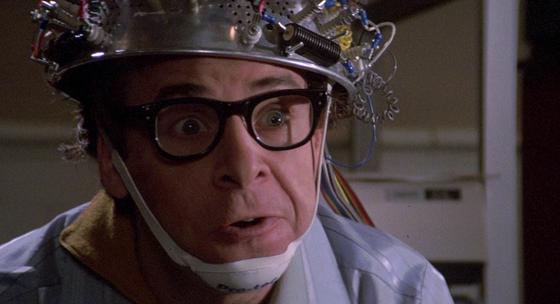 I'm waiting for Gozer the Traveler. He will come in one of the pre-chosen forms. During the rectification of the Vuldrini, the traveler came as a large and moving Torg! Then, during the third reconciliation of the last of the McKetrick supplicants, they chose a new form for him: that of a giant Slor! Many Shuvs and Zuuls knew what it was to be roasted in the depths of the Slor that day, I can tell you!
Ghostbusters is actually one of the few 80s movies that's gotten better instead of worse on rewatching this much later. The quotes are gold, and some of the best deadpan humor was wasted on my youth.
(Awesome special effects, circa 1984)
Egon Spengler: Don't cross the streams. It would be bad.

Peter Venkman: I'm fuzzy on the whole good/bad thing. What do you mean, "bad"?
Egon Spengler: Try to imagine all life as you know it stopping instantaneously and every molecule in your body exploding at the speed of light.
Peter Venkman: Right. That's bad. Okay. All right. Important safety tip. Thanks, Egon.
I still love this movie. Nothing has to be dumbed down or kid-dified for the enjoyment of the little guys (sorry Lucas). And if you're an adult, it's even better. Everything just gels. Mostly, I think it's got to do with the personalities… cause a lot of the dialogue? Improv. A lot of the best parts were off the cuff and accidental. Like the famous cigarette shot.
Right,
you probably want to get to the marshmallow stuff. Fiiiiine.
Why the Zuul would you want to make your own marshmallows? Why would someone climb mount Everest? The answer is, of course: Bragging rights. Freshness Level 9000. Once you eat one of these suckers, you'll realize that every other marshmallow you've ever had is stale by an order of magnitude. Every. Single. One.
Also, once you have mastered the ordinary marshmallow, which TBH is no rocket science even though it is technically candy-making, you can get… creative in the place of ordinary flavouring. Baileys Marshmallows, perhaps. Raspberry. Rum.
I decided to celebrate my inner kid and a great movie with a batch of homemade marshmallows, which I had seen on several sites, but the Smitten Kitchen's site had a recipe that was a small tweak off one on Epicurious that uses egg whites for a softer, more-like-store-bought result (she specified 3 times as much vanilla as the Epicurious recipe in her version). Her version was delicious, although the modification blasted everyone's sinuses clean with the awesome power of vanilla every time I took the lid off the marshmallow container. If that doesn't sound awesome to you, you may want to make a happy medium of 2tsp of vanilla instead of a full tablespoon. If it does, by all means, vanilla the suckers up.
Of course, none of those explained to me how the marshmallow got its name, which was one of those burning questions in my life, so I had to go looking.
Marsh. Mallow. It's a confection originally laboriously made from the root sap of a marsh plant called the Mallow. No kidding. Of course, the modern one bears about zero resemblence to a difficult-to-make candy popularized in France in the 1800s until they figured out how to make moulds of modified corn starch. I want to find some mallow root sap now. As cool as making "marshmallows" out of
gelatine was, I think being truly authentic would be warrior-epic kick-butt.
Marshmallows
2014-07-27 06:33:50
Delicious, fluffy marshmallows made from scratch.
Ingredients
~ 1 cup confectioners' sugar
2 tablespoons plus 2 1/2 teaspoons unflavored gelatin powder (about 2.75 packs Knox gelatine)
1/2 cup cold water
2 cups granulated sugar
1/2 cup light corn syrup
1/2 cup hot water (about 115°F.)
1/4 teaspoon salt
2 large egg whites
2-3 teaspoon vanilla
oil
Instructions
Prep a 9x13 pan by greasing with oil and dusting bottom and sides with confectioners' sugar.
In a large mixing bowl (preferably destined for the stand mixer) sprinkle gelatine over cold water and let stand to absorb water.
In a 3-quart heavy saucepan, mix granulated sugar, corn syrup, hot water, and salt over low heat, stirring with a wooden spoon, until sugar is dissolved. Increase heat to medium and bring to boil, without stirring, until a candy or digital thermometer registers 240°F., about 12 minutes. Remove pan from heat and pour sugar mixture over gelatin, stirring until gelatin is dissolved.
With standing or a hand-held electric mixer, beat on high speed until white, thick, and nearly tripled in volume, approx. 6 minutes if using stand mixer, or 10-12 minutes if using hand-held mixer.
In another clean medium-sized mixing bowl with fresh beaters, beat whites til they hold stiff peaks.
Fold whites and vanilla into sugar mixture until just combined. Pour mixture into prepared pan and sift 1/4 cup confectioners― sugar evenly over top. Tent the marshmallow loosely with plastic, leaving a corner open for condensation to escape, and chill marshmallow until firm, at least 3 hours, and up to 1 day.
Prying a corner of the marshmallow sheet up, invert pan over a large cutting board and tug gently to get the marshmallow sheet to come loose. Using a sharp knife or a pizza cutter, cut the marshmallows 1" square or to your size preferences. Toss the cut pieces in a bowl filled with icing sugar to coat all six sides before storing in an airtight container. Keep cool.
Notes
You may add two drops of food color when whipping the gelatine & candy mixture to tint the marshmallows.
These marshmallows will toast when exposed to flame, but will melt speedily before blackening, so heads up!
Adapted from Gourmet | December 1998
FoodRetro https://foodretro.com/
Non-marshmallow photos from Ghostbusters (1984) and Conan the Barbarian (1982). Pithy commentary my own. I am proud to be a member of the Netflix StreamTeam, which gives me the power to keep watching my 80s movies.