Hey my readers! I've got a review of Ava Dellaira's debut novel, "Love Letters to the Dead." Great book, and to go with it, Raincoast Books is also tossing in a huge bundle of books for a giveaway (valued approx. $280)! Read on:
From the publisher – It begins as an assignment for English class: Write a letter to a dead person. Laurel chooses Kurt Cobain because her sister, May, loved him. And he died young, just like May did.  Soon, Laurel has a notebook full of letters to people like Janis Joplin, Amy Winehouse, Amelia Earhart, Heath Ledger, and more – though she never gives a single one of them to her teacher.
When I first picked up "Love Letters to the Dead," my first thought was: "the format is jarring." The entire book is written as a series of letters, almost like diary entries, complete with a To: and Sincerely, Laurel. It threw me out of the narrative that happened between those two lines, breaking the suspension of disbelief magic.
I'm somewhere in the neighbourhood of reading thousands of books in my lifetime, from romance to hardcore science fiction. One of the things that I have learned in the reading of this many pages is that authors in print never do things without a good reason, especially in a debut novel. Their editor wouldn't give them that sort of leeway unless there was something important at stake, and patience is almost always rewarded.
So I soldiered on, and by the time I was 20 pages in, I was thoroughly hooked.
Looking back, I think almost all of us would agree: nobody gets out of high school unscathed. Most of us flounder at some point while we try to figure out who we are. We try on different personas like different outfits, trying to make ourselves fit in someplace. We're incomplete and not yet fully-finished as adults.
Laurel's letters become both a mirror and a form of therapy as we sympathize with the trials of Laurel's present, and slowly begin to understand that there's something very wrong in her past. The deceased recipient that she writes to becomes key to each fragment of the story. They represent different facets of herself: her fear, her pain, her desire for love, popularity, and completion. And not until she works through her present and her past, gradually writing down the results of an unspeakable event, does she begin to put together the pieces that she was not responsible for what happened to herself, her family, and the "perfect" sister that she idolized.
I couldn't put the book down. I simply had to find out what happened next. It's an engaging read, and a sympathetic one for people of my generation. Through it all, there's a very strong musical backbeat that's hinted by the letters and picked up by our thoughts: glory trapped by tar and vice, reaching for the light.
You can pick up "Love Letters to the Dead" at your local bookstore or Chapters.ca.
—
Raincoast Books is also having this rad giveaway with approx. $280 in books this prize! It'll keep even the most enthusiastic of book lovers occupied for a good long while.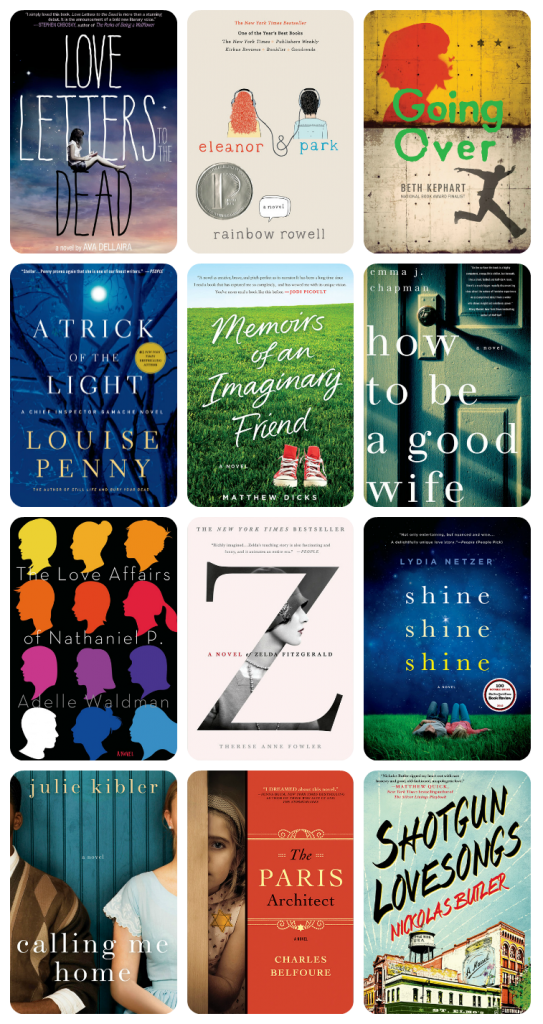 Included in the basket are the following:
Love Letters to the Dead- $19.99
Going Over by Beth Kephart- $21.50
Eleanor and Park by Rainbow Rowell- $21.99
Shotgun Lovesongs by Nickolas Butler- $29.99
Z: A Novel of Zelda Fitzgerald- $18.50
A Trick of the Light by Louise Penny- $16.99
Memoirs of an Imaginary Friend by Matthew Dicks- $16.99
The Paris Architect by Charles Belfoure- $29.99
The Love Affairs of Nathaniel P. by Adelle Waldman- $29.00
How to be a Good Wife by Emma Chapman- $28.99
Calling Me Home by Julie Kibler- $28.99
Shine Shine Shine by Lydia Netzer- $16.99
—
About the author: Ava Dellaira is a graduate of the Iowa Writers' Workshop, where she was a Truman Capote Fellow. She grew up in Albuquerque, New Mexico, and received her undergraduate degree from the University of Chicago .   Love Letters to the Dead is her debut novel. She currently lives in Santa Monica, where she is at work on her second book.
Images: Cover art. Image of Kurt Cobain from Izissmile.com
Disclosure: I was lent a copy of the novel for my review.