Why haven't I gotten on the Apple bandwagon? Well, as a matter of fact I've been a proud Apple user several times–about once a decade since inception. But the straw that broke the camel's back was an iBook in 2003 with a huge technical flaw that required its motherboard to be replaced about every 5 months, which took about 10 days. Every time.
OK, well there was two years of enduring that, and World of Warcraft came out. I bought a shiny new bad-ass gaming PC and never looked back.
I was gifted a shiny new iPad early this year. I put some of the Apple-only stuff on it that I was denied for years and let the kid have at it (all of them were kid-related). And then after just a few short months of ownership, it proved defective. The display borked, and it became a paperweight sitting on my shelf: a modern vindication slash reminder of why a premium price didn't necessarily bring value to the table.
Then my dad, uncle and 93-year-old grandma recently (and firmly) became ensconced in Camp Apple, sold off some of their Windows Thetans, and began to sing the Happy Facetime Song.
Because using software that's cross-platform compatible, like, I dunno, Google hangouts or Skype or something is weird and scary and they refused to use it, I was badgered into stepping outside of my Windows zone and into a Apple store. I figured, you know, being a reasonable user person, I could simply find one of their tech people and ask if it was something that could be fixed and would have my answer in 10 minutes.
That was mistake number one.
The following is an absolutely true and terrifying account of what it's like to step into an Apple store for the uninitiated:
First, I had to drive a town over to find an Apple store. The experience is elite, y'all. I went to Mapleview Mall to find a shiny modern store with no clear service area or cash register, just rows upon rows of tables shrines of devices, crowds of people oooing and ahhing over iPhones like they've never seen one before even though they held the last gen version in their hands (it looks the same to me, kids).
What I failed to understand is that I had to dress for the occasion. That was my second mistake.
Being as I didn't appear to be over the age of 50, my frame-free Lasik-enhanced eyes, non-hipster jeans, and generic Mom Purse clearly marked me as an outsider, and so I stood there, ignored by trendy young people in grey shirts for about 5 minutes until I finally went over, interrupted two grey shirts talking about Plato's Closet, and asked like a dweeb where I had to go to get someone to look at the iPad.
"Do you have an appointment?" one asked, looking down his nose at me. No, I didn't have an appointment. Why would I make an appointment to get someone's 30 second opinion on if it could be fixed or not? You know, thus possibly necessitating an actual appointment later on.
That was mistake number three… expecting as an owner of a premium-priced defective Apple product, that my satisfaction was anybody's priority. My bad.
I was directed to stand in a line with about 12 other people. We were waiting to be seen by one girl who would listen to our plight and deem whether we could be seen for an appointment today (!?!).
I don't know what her official title is, or even her name, but as the whole thing was very "royalty holding audience and the commoners showing up with petitions," I called her the Gatekeeper. She seemed nice.
As I was waiting, listening with half an ear to people groveling to the Gatekeeper about WiFi and passwords, I made the mistake of telling my friends online that I thought the whole experience was downright Alice-in-Wonderland bad-acid-trip Fear-and-Loathing-in-Las-Vegas bizzaro and was promptly met with "You went without an appointment!??! You don't go to the Genius Bar without an appointment!"
OMG. SO rude of me. Given that I could do the same at, idk, Best Buy, why would I assume I have to petition to be seen? You can see I was full of crazy mistaken assumptions this day.
And no kidding. They call this thing a Genius Bar. And they don't even serve Mojitos.
I found out later supposedly they keep all-you-can-drink Kool-aid somewhere, but I forgot to ask about it.
Anyhow, after about 20 minutes, it was my turn to state my case to the Gatekeeper. I show her the busted tablet. I ask her if it's covered under warranty and could get it replaced, and was promptly shut down. No, no, I have to speak with the "Genius" first. They might want to do some testing. Or something. They will try to see me today. GOD NO I CANNOT LEAVE MY TABLET HERE. WHAT DOES IT LOOK LIKE, LIKE THIS IS A COMPUTER STORE? The wait time is about one hour, but I don't have to wait at the store; if I would just kindly submit to them my cell number, they would text me not once, not twice, but thrice. Upon receiving the third text, I should reappear with my tablet.
She was very nice about explaining it all to me in small happy words. I assume she thought I was a moron. I felt like yelling something about being the generation that invented the internet, so who knows; she may have been right.
So off I went.
About an hour later I got my two additional texts. Both at the same time, incidentally. So I hied myself back across the mall to go back to the store (I was at the furthest possible point away without having gone home, naturally) at a swift trot and this time immediately besieged a grey-shirt (again, like a dweeb) to ask where I would need to go.
He sent me back to stand in line with for the same Gatekeeper with another 20 people with WiFi and password laments.
Bless her heart, by the way, for not strangling them with a trendy pair of EarPods or something. I know I was tempted.
After another 15 minute wait, I was directed to stand or sit at a table with my device where I would be met by the "Genius." Still no open bar. The "Genius" (who indeed turned out to be a nice enough kid and I bear him no ill will) took one 30-second look at my iPad and said:
"Yup, it's busted."
Thanks, d00d.
Well, as I had correctly assumed with modern commodity devices, they're not easily fixable. The "Geniuses" don't actually do anything with hardware. They just unbox a new one and hand it to you and send the old one back to be factory-refurbished. And that was the case here.
I just had to go sit (or stand, rather) through the entire 3-ring Circus to see the freakshow that was the "Genius Experience," and it was a lot like sitting through this for an extended period of time:
As mine was under warranty still, being practically brand new and in perfect condition, it cost me zilch to walk out of the store with another shiny new iPad. So that was a plus, and I left moderately appeased by the "relative" ease of replacing the product.
Notice the emphasis on the word relative.
If you're here at this point in my post, wondering why you spent 20 minutes of your life that you'll never get back reading something as anticlimactic as this, well that's pretty much how I felt about being at the Apple store. I spent almost 2 hours farting around and wasting the time of 4 people (one twice!) when I could have bothered one semi-Genius person for 5 minutes. Heck, the Gatekeeper herself probably was 99% sure my iPad was FUBARed and could have passed me off to a clerk and gotten me out of the store in a land speed record.
Having spent years in retail and sales in a former life, I think you should have offered me a fair trade hipster latte in a ceramic mug that I feel obligated to keep in your store and have me wander for a precisely calculated 10 minute wait before having a Genius look at my stuff and offer to discuss with me my other potential Apple needs to try to win me back to the brand.
Now that would have been a Genius move.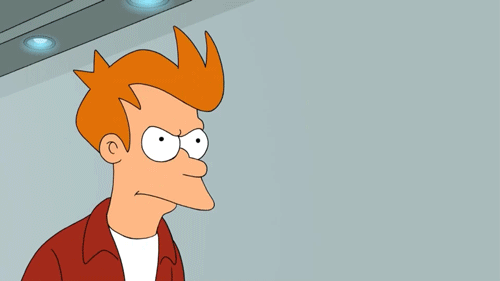 Lest all the Apple fanbois decide to come after me with pitchforks and torches, smart phones and computers are commodity devices. Everybody makes them, and they all do the same things, more or less. So use what makes you happy.