It's the most bakingest time of the year! And naturally, we're in our kitchens, because when you can't figure out what else to get for the people who have everything, you always know that you can count almost always count on a cookie being a well-received holiday gift. I give them to almost everybody in lieu of an impersonal gift card… teachers, extended family, you name it.
I touched base with my friends and collected some of our best, most popular tried-and-true recipes that everyone is happy to get. There's something for everyone here: allergies and otherwise! So enjoy our best recipes here. Just click on through on the photos for the recipes!
Baking does have one other downside… I always struggle to find something appropriate to package them in. A foil-wrapped paper plate is very un-Christmassy, and a lot of containers are too small or they cost too much. Yes I know, possibly the Dollar store. But it can be hit-or-miss in that regard – I might find the perfect container, but only a few; I might find nothing at all.
This year, though, I discovered Glad® had limited edition holiday plastic wrap, sealable bags, and containers. The containers are reusable, microwaveable and dishwasher safe, the perfect size for cookies and holiday leftovers, great for giving away without costing you an arm and a leg, and seasonable and festive enough for everyone, regardless of their practices! They've also got some great sanity-saving tips and recipes too, to help you stay on top of things.
But you guys came here looking for cookies, right? Right! So scroll below to find some great things to bake and share. OH, and the pictures below belong to my friends, so if you want to save one specific recipe, I suggest pinning from their site.
Bake in peace, my friends.
Apple Molasses Gingersnaps
This is, hands down, my family's favourite recipe, whether I use apple molasses and vanilla sugar or not. In fact, it's so popular that any time I suggest making something else as a holiday cookie, I get a "Naaaaahhhh." (if you don't have or want to make apple molasses, just substitute the real thing 1:1). My version uses oil instead of butter (thus, dairy-free), and produces a great, crispy cookie that NOT ONLY is great as a cookie, it makes a great gingersnap crust for other things, like my mini eggnog cheesecakes. Just sayin.
No-Bake Macaroons
"Baking? Ain't nobody got time fo dat." Fortunately we've got stuff for you. My buddy Sara Vartanian from Green Moms Collective has a dairy and egg-free sweet treat for the health-minded in your families: honey instead of refined sugar and coconut oil instead of butter.
Salted Caramel Cocoa Cookies
Katja and I have a lot in common. And mostly I mean we both freaking love cheese. While we may have mixed opinions about how the French do hot dogs, we're both agreed that you can't go wrong with salted caramel and chocolate.
Biscotti
If you love cookies, and you hate having to shape out 4 dozen balls x 5 batches, then LET ME INTRODUCE YOU TO MY FAVOURITE LAZY GENIUS COOKIE. It's about the only other type I'm allowed to make. They are not just for dunking. They look like you've put a ton of work into them, but the reality is that they take half as much attention as regular cookies, AND you can trick them out pretty much however you want to with variations in what you throw in (case in point, chocolate chip cookie biscotti). I kid you not, it's an all purpose lifesaver for bake sales and holidays alike. And they're absolutely delicious.
Easy Shortbread Cookies
You can't go wrong with classic shortbread. Julie, the chicken lady, has a great recipe, and it's easy to make them look pretty with the right tool, too.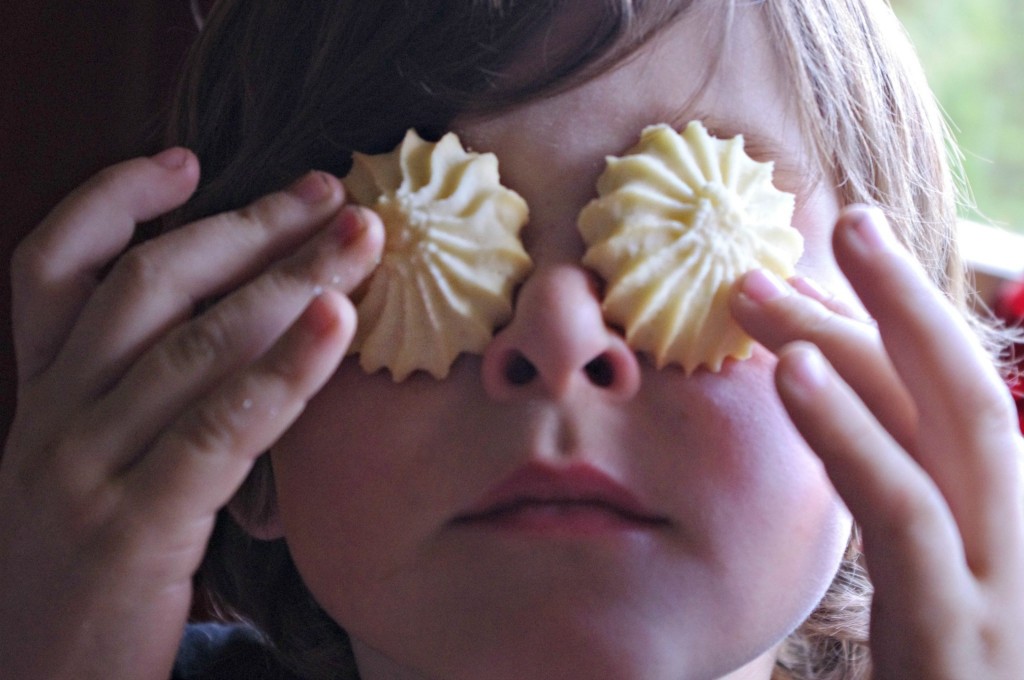 Gluten-Free Almond & Coconut Cookies
Not only are these treats by Seanna gluten free, they're vegan, too! Maple syrup makes these treats especially sweet.
Peppermint Crunch Icebox Cookies
Nicole is one of my favourite people. She's such a genuinely nice person, and she's constantly thinking outside of the box. Or in the (ice) box, in this case. If you have dairy and egg allergies, these cookies are just for you. If you're not a peppermint fan, the base cookie can be used in all sorts of substitutions for normal chocolate wafers.
Holiday Shortbread (Take 2)
Believe it or not, there's more than one way to make a shortbread cookie. Jen's shortbread recipe doesn't require the use of any cornstarch, but it's just as delicious.
Chocolate Chili Caramel Cookies
You want to take a walk on the wild side this holiday baking season? If you've never tried pairing chocolate and chili, you might be pleasantly surprised. My buddy Paula's got you covered here.
Need more easy recipes? Check out Santa's Favorite Toffee and Chocolate Chip Tree Cookies. They're also on my make list this year!
* * *
Remember to stow your cookies in an airtight container or zipper bag once they're cool to keep them from going stale. GladWare®, the Holiday Deep Dish Containers, and Holiday Freezer Zipper Bags can be found at most major retailers.
Disclaimer: I received compensation to spread the word about Glad's new limited edition Holiday products, including some product itself. I do really enjoy them; they're a great size.