Would you like to know how to make your microwavable popcorn 1000% more awesome? Take all those microwavable bags of popcorn, put them in a metal garbage can, add a large quantity of gasoline, and toss in a match from a safe distance.*
Now that's awesome microwaved popcorn.
Once you've enjoyed the show, read MY instructions on how to make the best popcorn you've ever made at home. 'Cause HEY GUESS WHAT!? It's summertime. That means it's also movie time, YO.
Yes. You should read my instructions. 'Cause there's awesome bonuses to following the master (me):
I don't have to hear people comment "i CHANGED EVERY THING AND IT IS TERRIBLE AND YOUR A BAD PERSON!!!!1!!!eleven"
Also, your popcorn will be dairy-free (unless you pour melted butter on it) and it will be vegan–which microwavable popcorn is most decidedly not and never is. You know, in case those things matter, like if your kid has a dairy allergy (like mine) or you don't like delicious butter (like some of my hippie [though still loveable] friends who think life is still worth living when you can't have cheese). Oh and before you swamp me, I can't do nut cheeses, because no matter how awesome cashews are, that happens to be exactly one of the two tree nuts my son is severely allergic to.
SIGH.
So here's your 5 secrets about how to make the best popcorn ever.
1 – NO AIR POPPER. You will not be using an air-popper, not unless you like your popcorn to taste like hair dryer or unless you are on some sort of freaky sad low-fat diet that never lets you have one iota of joy in your life (in which case, may the pantheon save you). Air popped popcorn, trying to get kernels out of the blower holes with tweezers, and the price you pay from your soul to own and store the unit is part of the seventh circle of hell. Forget the expensive equipment. You know what you need? A BIG POT. AND A LID. And OIL. Oil popped popcorn for lyfe!
2 – SALT THE OIL. Some "genius" (not me) probably told you salt doesn't dissolve in oil. This is true. But do you know what happens when you put salt in oil when you make popcorn? The oil sticks to the popcorn kernels! And it takes your salt with it! IT MAKES THEM TASTY AND SALTY DELICIOUS. IT'S FREAKING GENIUS (this one is me)!
3 – DON'T — USE THE CANOLA. Quite possibly the worst thing I can think of to do other than ignoring the first two things is to use an oil that has no flavour. Why would you do this? Why? Canola tastes of nothing. And so will your popcorn. You want to know what the secret to making movie-theatre-omg quality popcorn is? It's coconut oil. Nice, cold-pressed and tasting-of-coconut coconut oil. What the actual heck! I worked at AMC theatres for a year back when there were dinosaurs (OK, it was the summer of Jurassic Park), so I WOULD KNOW.
DON'T OMIT THIS. YEAH I KNOW IT LOOKS LIKE LARD. IT MELTS. HONEST.
4 – MIX OILS. You should never use just one oil to make popcorn (even if it's coconut oil). Why? Mix your oils, make popcorn, and ask me that question again. Except you won't need to. If you want to get super fawncy, try using stuff like buttered olive oil (which is, in fact, a dairy-free product).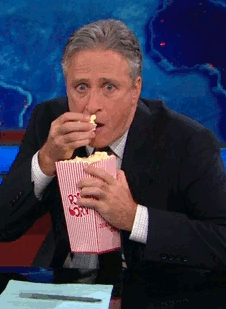 5 – DON'T BURN IT. (doyyyyy…) Take care to note that the appropriate temperature to make your popcorn is not, in fact, HIGH. All oils have a burning point. It makes them taste like crap. It makes your popcorn taste like crap. Use medium heat, use good quality oil (which has a higher smoking point), fresh popcorn (cause stale will pop like crap), ensure you shake the pot while making it to toss the unpopped kernels to the bottom of the pan, and make sure you remove it from the heat and dump it when you have a two second pause between pops.
Movie Theatre Popcorn
2015-06-08 11:15:47
Serves 4
Toss the unhealthy microwaved popcorn! You can make movie-theatre quality popcorn right at home! It's also naturally vegan and dairy free.
Ingredients
1/4 cup popcorn kernels
2 Tablespoons coconut oil
1 Tablespoon extra virgin olive oil
Three-fingered pinch of table salt
Instructions
Use a large soup pot with a lid.  Put on stove at medium-medium low heat.  Add coconut oil, EVOO, salt, and popcorn.
Shake the pot a bit so that the kernels are well-coated, and crack the lid just a bit for steam.  After a few minutes of simmering, the popcorn will begin popping. Shake occasionally so that unpopped kernels fall back to the bottom to continue heating.
When popping slows down to once every couple of seconds, turn off the heat and dump the popcorn into your bowl.  Be cautious of late poppers!
Garnish with salt to taste, and maybe some of your favourite topping.
FoodRetro https://foodretro.com/
*Please, for the love of all that is holy, do not actually make a microwave popcorn bonfire at home. You might burn yourself horribly or something and blame me, and I don't make nearly enough money to be worth suing.