Somehow the Christmas Paper Wrapping Fairy missed me when she was handing out life skills, and I've been struggling into my adult years with trying to wrap a present beautifully correctly without making a disaster of the whole thing. A good wrapping job, for me, involves not having any of the underside of the paper showing ever.
It's a difficulty level somewhere along the lines of reading War and Peace.
I've spent many a Christmas purchasing whole hangers full of gift bags from the Dollar Store, which the Dollar Store employee always invariably feels required to comment on.
Them: Christmas present time for the family, eh?
Me: Yep.
Them: No good at giftwrapping, eh?
Me: Nope.
Very few things end up being out of my reach when I feel like I should be mastering them, and I'd probably be better at it if I did more of it. But gift-wrapping occasions come far and few in between for me. Also, I'm a word-arty person. I'm not a visual-arty person. And so even though I find I can write rings around many people, I struggle when it comes to making things look pretty.
And I don't like struggling to think up ideas. It makes me feel very Un-Christmassy.
Fortunately Scotch has some cool ideas for how you should be dressing up gifts this season! Check below for their ideas, and be sure to visit their blog, full of great ideas and images to help make your holidays a little prettier!
1. It's a Champagne Christmas: It's all about white and gold this season; look for wrapping papers in this colour palette to add a pop of glam to your gifts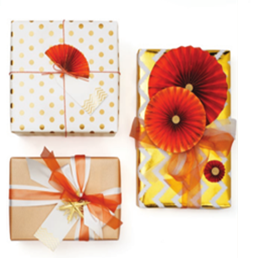 2. Neon-neutral mash-up: Pair ultra-bright washi tapes and gift wrapping papers with burlap to complete this popular look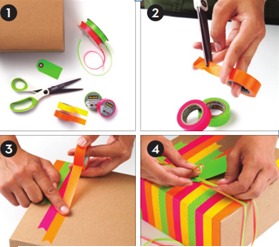 3. Geometric Flare: It's all about the patterns for this trend; wrap your gift using decorative tapes on packaging paper to accessorize your gift exchange and make a bold statement.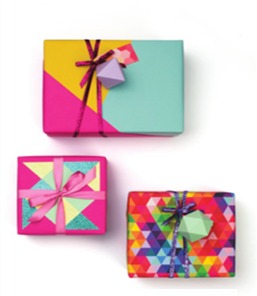 And to help you with your supplies, enter below to WIN a 50$ prize pack from Scotch Tape Canada, full of all the bits you need to wrap like a pro! (Please note this giveaway is only open in Canada, excluding Quebec)