For years, I've been patiently waiting to bring my son into the world of SF literature and film that I love so deeply. We've been dancing around the edges of lore for a few months, bringing him into a love of robots with the Voltron reboot and the concept of aliens with Pacific Rim. But he wasn't ready to connect to it at an intellectual level (the implications of Interstellar were a little bit beyond his ken).
Everyone should learn to love science fiction. Nothing else so sharply penetrates the fog of what is and what could be. Nothing else stares so deeply both outward into others at the very same time it pierces so deeply into ourselves.
The far-away landscapes and advanced technology is nothing more than the frame around the mirror that reflects our face.
Star Trek is, perhaps, the clearest example of how we study and discuss problems of modern society in isolation (if you've never enjoyed it right from the cheesy William Shatner get-go, well, Netflix Canada currently has it all 20+ years of it right now). There's a great article in WIRED, actually, which explains the "brilliantly political" universe created by Roddenberry (and how the modern franchise lost it).
Every book or film, every trope, every situation, explores and challenges modern fundamental concepts that we seldom question. The most brilliant stars in the literary and film universe keep us questioning long after we put it aside. They set us off kilter and change our very orientation to our known worlds just by flipping our perception – sometimes extremely, other times ever so slightly.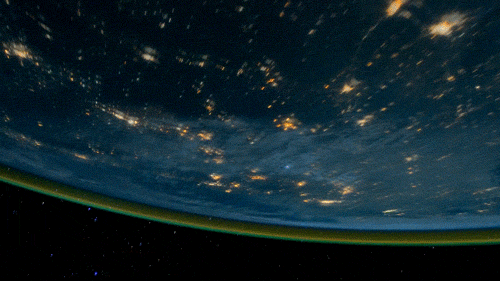 Is it up? Or down?
What many don't realize is that SF doesn't have to be all laser beams and space aliens. In fact, some of the most challenging science fiction films and books are the closest ones to our own reality. It will probably be a few years yet before my son will realize that the other is usually a lot closer to home than we think.
Sometimes the alien is us, and the only difference between us is a difference in mindset that's virtually impossible to comprehend.
I've recently gotten sucked into the Brazilian-made 3% which I heard virtually nothing about except whispers in obscure places that it existed. It's a great show, but it's troubling to speculate on how thin the veneer of our civilization might really be in the right circumstances. (If you're a fan of man's inhumanity to man ala Battle Royale or The Hunger Games, this one will likely be up your alley.)
Last night, I happened to notice Ender's Game was also on Netflix, and while I knew the film wasn't going to be a patch on the book (adaptations seldom do justice to the original), I thought it might just be a great way to introduce him to that confounding sort of twist I love best.
There are few things I appreciate more in a film than the unexpected. I fondly remember the carefully constructed writing of The Sixth Sense. I remember when I watched 12 Monkeys with a friend, and how we both took the gut-punch that was the ending – one so intense that the first thing we did, once we picked up our jaws, was to rewind the film and watch it again.
I knew what I would see when we watched Ender's Game. So instead, I watched my son.
As the film came to its climax, I watched the mirror of my son's universe crack when he finally understood what happened, and how he gazed upon the broken reflection – the pieces that were him, and us, and yet not.
My son's an extremely empathetic boy, and he took the ending hard. But I know he was thinking about it for a long time afterwards, just as he should be.
Empathy is always key when dealing with the thought experiment that is the alien – the other – in SF literature. But assumptions and projections have to be made where a true understanding is impossible… and sometimes projecting ourselves upon the other is destructive to both.