It seems like we skipped spring! Temps are supposed to be as high as 24 degrees here today–and we were sub-zero just last week. At this rate, it's not going to be long before we're sweltering and trying to stay cool–and feeling that pinch for air-conditioning costs in our wallets.
So, from the foodie's perspective, here's some things you can do both now and later to get your home ready for summer… and keep cool when summer's here!
1) Grill, baby, grill!
Not only is BBQ one of the best parts of summer, not using the oven/stove means that you're not heating up your house with it. This can keep from taxing your air conditioner and costing you hundreds of extra dollars over the summer in cooling costs. Make a pledge this summer to pick up some more awesome BBQ recipes, like my sesame maple sticky rib BBQ sauce! And finger bowls. Lots and lots of finger bowls.
2) Cook… a lot! (but all at once)
When you do use the oven and stove–or heck, even when you grill–make it worth your while. Be more efficient, and don't cook just one meal, which will cut back on the number of times you have to heat up the indoors. I've got a whole post about maximizing your oven time, and the best part is that you save a bunch of time through the week too by not having to cook!
3) Create less food waste.
Not only is food a terrible thing to waste in your household budget, you've also wasted the energy used to grow it, harvest it, preserve it, move it, prep it, cool it, and cook it. Plan what you're going to use, buy only what you need, store it properly, and use what you make.
4) Use the microwave more.
Further to #2, use the microwave to reheat your extra prepared foods. Not only is it faster and more efficient about reheating things than the oven, it throws off less unnecessary heat. But also consider using the microwave for other things… like making tea instead of putting the kettle on. Oh and here's a microwave hack. You're welcome.
5) Relocate your chest freezers to cooler areas… and keep a few extra jugs or bags of ice in there.
If you're keeping a chest freezer in the kitchen, perhaps it's time to think about moving it to the basement. Sure, it's a little less convenient, but it will have to work a lot less hard to stay cool and strain your A/C less. Also–fill it up. A mostly-full freezer works way more efficiently than a mostly-empty one, and let's face it, there's a ton of things you probably never thought about freezing that can save money!
But worst case scenario? Fill some jugs with water and put them in the bottom, or keep some bags of ice in there.
6) When spring-cleaning, dust your fridge's radiator coils.
Let's face it… most people overlook this one when they spring clean. So at worst, it's well overdue for a cleaning anyway and you'll probably be grossed out about how much accumulation is back there. But these coils are also part of the heat pump for the fridge. If they're "insulated" by an inch of dust and dirt, it's going to take a lot of work for your fridge to cool itself down. Unplug it, pull it out and give it a good vacuum.
7) Eat more raw.
The whole raw food diet is based around the idea of minimal processing of foods, and it's typically vegan. No cooking above a certain temperature allowed, and therefore the coolest kitchen in the universe. You don't have to change over your whole diet, but you gotta admit, some days it's just too darn hot to cook. There's actually some really awesome raw recipes out there. At least look into the desserts.
And if you're still skeptical–well, salads count towards the raw diet too.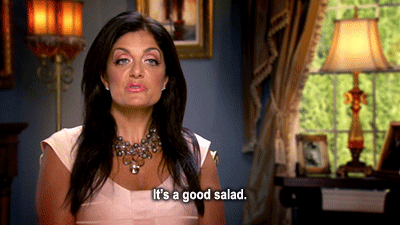 8) Avoid using your dishwasher so much.
If you're cooking less and/or on the grill, odds are that the majority of your dishes are going to be plates, cups, and silverware. No need to run the dishwasher all that much if at all (though you should still use it once every week or two to keep the seals in good shape). Get yourself one of those little Scotch scrub wands and do the plates in 10 seconds flat–under cold water.
9) Replace those hot flood lights.
If your kitchen is like mine, you've got pot lights everywhere. Have a look at the bulbs… the old-style flood lights not only are inefficient, they also are hot! Replace these bulbs (and any other bulbs that you use a lot) with a more efficient one. I actually don't recommend CFL–check out the LED, which have come down very greatly in price and give you a much more natural light. They use even less energy than most CFLs, and they have no mercury in them.
10) Make sure your thermostat is well-placed–or smart.
My thermostat makes me nuts all year round. Why? 'Cause it's sandwiched between the two hottest rooms of the house… my kitchen and my living room, which has a gas fireplace in it. Because it's setting the temperature based on these rooms, in the winter my upstairs is cold, and in the summer our bedrooms are either muggy gross hot or frigid. Because moving a thermostat isn't always convenient or possible, consider getting a more sophisticated thermostat that has remote sensors like the ecobee3 (1 remote sensor) or the ecobee3 Smarter Bundle (3 remote sensors) to help control your household temperature more accurately.
If hot and cold spots in your house aren't a problem, you can also be more energy efficient with a thermostat that you can control from your devices anywhere in the world like the ecobee Smart Si.
If you're in the market for a thermostat, then I've got some more money-saving info for you: Canadian customers who purchase the ecobee3, ecobee Smart Si or the ecobee3 Smarter Bundle will receive $25 off by entering the code h1save25a at checkout between April 1 and 30.
If you're a Hydro One customer, you can earn an additional $100 by applying to enroll your thermostat in Hydro One's Bring Your Own Thermostat (BYOT) pilot program by April 30. BYOT allows Hydro One make brief, limited temperature adjustments to a central air conditioning system via the WiFi thermostat during times of peak electric demand (other heat pump systems not eligible at this time). You can also earn an additional $25 if you fill out three brief surveys regarding your participation for a total savings of $125. Get the FAQs about this program here.
Stay frosty, my friends!
Disclaimer: I was compensated to give you information about Hydro One's Bring Your Own Thermostat program and the ecobee thermostats, but opinions are my own, and all my tips to keep the house cool are mine, they work and (of course) are awesome.